Latest Development
Developed and advanced the Biosymtec Monitor over a 14-year period. The Biosymtec Monitor is capable of detecting viral and bacterial infections acquired by a patient days before the symptoms send the patient to the hospital ER. Early detection of infections allows for early medical intervention when medications are most effective.
The Biosymtec Monitor is the sole intellectual property of Beiswenger and Associates and it is available for licensing or acquisition.

Selected Previous Accomplishments
Headed the research, design and development of an in-the-field, self-maintaining, special purpose fax machine with one button operation. &nbsp Took product from Product Design phase to Pilot Production in six months. The machine was used to take orders from salesmen in the field and health data from patients in their homes (therefore, the ability to self-maintain was necessary on both fronts). &nbsp Patents issued in U.S., Europe, China and Canada.
Headed the research and design of an all-new electric-convection barbecue grill, with highly competitive features, for a large gas grill manufacturer. Grill produced a better barbecue flavor than the client's gas grills and cooked an eight-pound chicken in 38 minutes, so juicy there was a suggestion the user should be warned about spilling the chicken when it was removed from the grill. Patent in process.
Headed the research, design and development of a touch-screen digital alarm clock module with color LCD display and touch-screen features for a major electric housewares manufacturer. To change the time, you just touch the numeral you want to change. Complete product cost just $6 in a display carton. International (PCT) patent applied for. This technology is now available. Two issued patents resulted.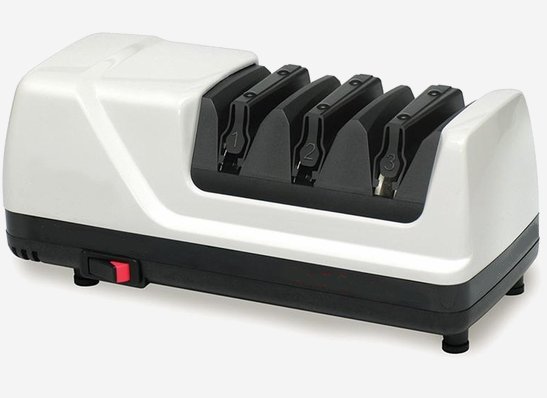 Provided the solid-modeling (CAD) design of a three stage knife sharpener. Its unique design allows it to sharpen virtually any knife including kitchen, sporting, utility or pocket blades no matter your experience level since knives are automatically positioned correctly in each stage. Diamond abrasives allow sharpening with little to no effort. Three stage design sharpens and strops each knife, leaving it sharpened and polished to a finish that is at least as good as new. Sharpened knives in virtual space to test results.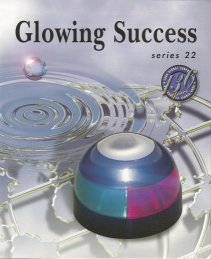 Provided the design and solid modeling of a complete line of boat navigation lights and horn, working with an engineering physicist. The lights were the "best-ever-tested" by Coast Guard. The two-mile lights were visible at four miles. Lens segments were ultrasonically welded together. Aluminum disk on top served as a heat sink which dissipated heat from the high-performance lamp.
Provided the design enginering and development of the first working model of a small-scale surgical instrument sterilizer using the client's toxic chemical. Plastic cover was held shut and sealed by atmospheric pressure. Fluidic geometry washed the interior of the sterilizer and the instruments leaving no trace of the toxic chemical. Issued patent resulted.
Headed the research and design of a new lawn feeder, using fertilizer cartridges. The lawn feeder was simply placed in the hose line connected to a lawn sprinker. 300,000 were sold into distribution during its first year. Issued patent resulted.
Designed and developed the Dose Monitor which is a micro-electronic device that attaches to Metered Dose Inhaler canisters to tell the consumer 1. the number of doses remaining in their medication canister and 2. the number of hours that have elapsed since they last used the medication. The device displays its readings on an LCD, in simple analog fashion; the number of doses remaining in the medication canister and the number of hours that have elapsed since the medication was last used are displayed. The resulting bar-graphs are easy for anyone at any age to understand.


International Experience
Monitored start-up production in Ireland, France, Japan, Taiwan, Hong Kong and Mainland China. Observed tests at VDE in Frankfurt, Germany.

Consulting Assignments - Product research and design engineering
Current Consulting Assignment, Product Research Associates
Abbott Labs - Blood analyzer carriage
Acco-Swingline Corp. - Surge Protectors
Aqua Signal Corporation - Boating navigation lights (Click on Image >)
Aqua Signal Corporation - Navigation light/horn
Autotote, Inc. - Computer terminal for wagering (Click on Image >)

Borg-Erickson Corp. - Bathroom electronic scale
Burgess Vibrocrafters - Foam soap dispensor Produced from ordinary bar soap.
Caterpillar (OEM supplier to) - In-the-cab alarm
Edgecraft Corporation - Three stage knife sharpener
Ferro Marketing - Rotating graphics display, P.O.P. sign reflectors

Fortec Inc. - Electronic Advertising Payphone
GE Appliance Corp. - Washer/dryer touch-screen control
GE-Ericsson - Molded 3D PCB for hand held transceiver (Click on Image >)
GE-Ericsson - California Highway Patrol Control head for 2-way radio

General Time Corporation (Westclox) - Touch-screen digital alarm clock
Gils Co. - Remote control for outboard motor (Click on Image >)
Katayama K.P. - Ultrasound-guided transvaginal needle probe for aspiration of follicles for in vitro fertilization.
Kavo Corporation - Fiber-optic light source
Keytronics Corp. - Soft-key touch-screen control module
Magnaflux Corporation - Ultrasonic Fault Detector

Magnetrol Corp. - Liquid level control
MDA - Toxic gas detector disk reader
Northern Telecom (Nortel) - Touchscreen telephone (Click on Image >)
Nuclear Data Corporation - Multi-channel analyzer
Oak Switch Inc. - Touchscreen applications research

OBOS, Inc. - Special purpose fax machine (Click on Image >)
Oster Company - Electronic lighted mirror, Personal cooker
Rayovac Corporation - Flashlights Primary 1, Primary 2
Forest River Inc. - Microwave oven for RV with Coffee Maker
Rosemount Office Systems - Office 1, Office 2
Rubbermaid Corporation - All plastic, collapsible easel &nbsp Shown with fax scanning bar.

Silite, Inc. - Manual trash compactor, Hot/cold beverage servers
Simmons Juvenile - Baby crib hardware
Steris Corporation - Surgical instrument chemical sterilizer (Click on Image >)
Sunbeam-Oster - Digital alarm clock

Suncast Corporation (Custom Plastics) - Hose end sprayers, Oscillating sprinkler
Suncast Corporation (Custom Plastics) - Tank sprayers, Auto-rewind hose reel (Click on Image >)
3M Corporation - Autovariable-flow blower for respirator
Technomarket, L.P. - Touch display module with color LCD
Thumbscan, Inc. - Thumb print scanner
Touch Display, Inc. - LCD touchscreen controls

Tri-guards, Inc. - Safety Lighting
Wahl Clipper - Comb cleaner, Sonic denture cleaner
Weber-Stephen Products Co. - Electronic gas grill control
Weber-Stephen Products Co. - Online demonstration: Gas grill Timer/Ignition control
World Dryer Corporation - Electric hand dryer for English market
Beiswenger and Associates Inc. 2007 to Present
Beiswenger and Associates is engaged in Medical Product Research
involving the licening of early-detection health-monitoring technologies.
Title: President and CEO
Biosymtec Medical Inc. 2019 to Present
Biosymtec Medical was created to develop the Biosymtec Monitor.
Title: Chief Technology Officer


Predictive, Inc. - 2016 to 2018
Title: Acting President and CEO

Predictive, Inc. - 2007 to 2016
Predictive was created to research and develop an
early-detection health-monitoring device.
Title: VP Research

Hcl Inc., d.b.a., Healthcarelink - 1998 to 2007
Telehealthcare - Provided graphing of vital data for patients and healthcare professionals
Title: CEO and VP Research


Beiswenger and Associates, Inc. - 1991 to 1998
Product Research Engineering Consulting
Title: President

Brighton Research - 1988 to 1991
Product Research Firm
Title: President

Intresearch, Inc. - 1982 to 1988
Product Research and Engineering Consulting
Title: President

Acme Burgess, Inc. - 1976 to 1982
Manufacturer - Lawn & garden and household electrics
Title: Executive Vice-President

Norland Associates, Inc. - 1974 to 1976 (and 1962 to 1964)
Professional Engineering consulting firm - Product development
Title: Account Manager (see Early Projects)

Guardian Service Security Systems (Division of National Presto) - 1971 to 1974
Manufacturer - Residential Security Systems
Title: General Manager

National Presto Industries, Inc. - 1968 to 1971 (and 1964 to 1967)
Manufacturer - Electric housewares and personal care products
Title: Senior Project Engineer

Team Electronics (T & T Distributing, Inc.) - 1967 to 1968
Dealer/Distributor of consumer and commercial electronics products - Rochester, MN
Title: Vice-President and General Manager

The Fulton Company - 1961 to 1962
Manufacturer - Marine and automotive accessories
Title: Electronics Project Engineer (see Early Projects)

Electromatic Corporation - 1960 to 1961
Product Research - Electronic Products
Electronic Organ Service
Title: President and Founder (see Early Projects)
[Sold company to The Fulton Company.]
Named on over 30 U.S. and Foreign utility patents - two in process (2014)
Six most recently issued patents include:

1995 - Optics for a finger print scanning device
1995 - Surgical instrument chemical sterilizer
1996 - Color LCD touch/display module
1996 - Digital alarm clock electronics module
2005 - Bioterrorism Detection System
2014 - Apparatus and System for Predictive Health Monitoring
Product Engineering experience and background includes placing approximately 65 products into production.
An AutoCad user since 1985.
Proficient in Solids-Modeling.
Background also includes many years of experience with HTML, SQL, ASP and website design.